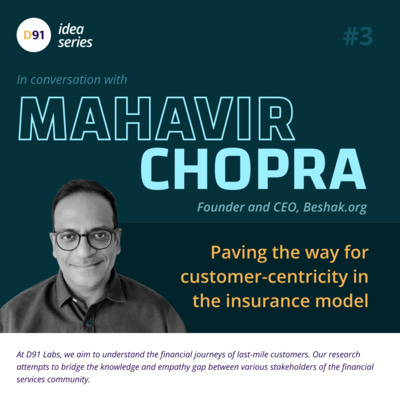 Sep 4, 2022 • 19M
D91 Labs Idea Series Podcast - In conversation with Mahavir Chopra
At D91 we aim to understand the financial journeys of last-mile customers. Our research attempts to bridge the knowledge and empathy gap between various stakeholders of the digital financial services community.
Mahavir Chopra is the Founder and CEO of Beshak.org. He has 17 yrs of experience in digital insurance distribution before it was called Insurtech and previously worked at Coverfox.   Beshak is an independent community platform cutting the crap from insurance and making it simple, credible, and trustworthy for every customer. Through a curated community of financial advisors and industry experts, Beshak helps people find dependable answers and guidance for all things insurance - so that you can make regret-free decisions for a lifetime.    In this interview, we have discussed some of the challenges in building and distributing suitable, tailored, and unbiased insurance-related services.
----
About the D91 Labs Idea Series   The D91 Labs Idea Series is a platform that hosts conversations with founders, practitioners, and researchers who share our passion for improving the financial lives of the people of India with thoughtful and innovative solutions! Our hope is that these interviews and stories will inspire the industry to build and serve the underserved in India.