Discover more from Tales of Bharat
A publication from D91 Labs dedicated to fostering financial innovations by conducting high-quality research and developing fintech ideas for Bharat.
Over 4,000 subscribers
Tales of Bharat - Issue #9
Hey,
How is your WFH going on? A friend of mine was elated when he received the news that his organisation is going to be declaring a mandatory WFH policy for next few weeks. But the fact that most of us a knowledge workers and our work could be achieved remotely is such are privilege. But we form just a small portion of the population.
But most of India gets paid based on the hours they work, trips they complete, parcels they deliver or the days they cook. They are the only asset in their business. When they stop the business shuts. Think about it.
In this edition we bring two such stories from the 'other side' in our Rural Journey series
Rural Journeys
#3 | Gauri: Aasha worker + Tailor
Gauri is a 42-year-old woman born and brought up in a small village near Tumkur district in Karnataka. She stays in her own house in a village with her husband and daughter. Her son has migrated to…
4 | Padma: Aspiring entrepreneur
Padma is a married woman who has been staying in a village near Tumkur for the last five years post her marriage. She lives in a joint family with husband, son and her in-laws. Her husband has…
QR code in retail stores
We published our take on QR payments in retail stores and the future of digital payments based on our on ground research series 'Kirana Chronicles' on Hardcopy.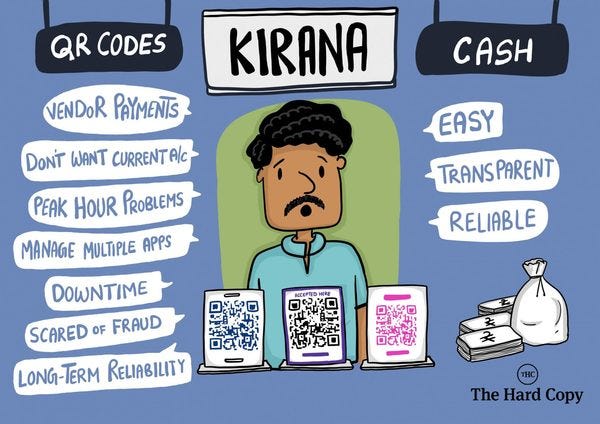 Credits: The Hard Copy
Digitising Kirana Shops - The Hard Copy
Dharmesh Ba, Head, D91 Labs, shares insights from research with small merchants, uncovering their challenges with QR codes
Yourstory - Future of work
We had the pleasure to share our research insights through a panel discussion and a short talk at yourstory's future of work conference two weeks back.
Industry leaders believe regulators offer opportunities in fintech
Technology is the way forward for financial inclusion in Bharat, says the Head of D91 Labs
Kirana Chronicles
Kirana Chronicles is our research series on documenting the financial journeys small businesses in India.
#21 | Guneet - Electronics Trader
Guneet (36) is a native resident of Mumbai and runs a retail electronics store in the suburbs for the past 11 years. He lives with his wife and two kids in a house they own. His reseller business…
Ronit (45) runs a consumer packaged goods store in Mumbai. He lives with his father, wife and two children in Chembur in a house owned by the family. His daughter studies in the 12th grade and his…
Thats it for now. Stay home, stay safe. This is a once in lifetime opportunity for saving the world by not doing anything. Make the fullest of it :)
We are all ears on humans@d91labs.org for feedback and collaborations.
Follow us on
Medium | Twitter | Facebook | Instagram
D91 labs is an open-source initiative by setu.co to help Bharat build great fintech products. We organise and publish user research, insights, and frameworks for fintech in India. Please follow us on medium for more exciting stories and insights on Bharat.

By D91Labs
'Tales of Bharat' is a bimonthly newsletter from D91 Labs that curates and delivers our on-field research stories straight into your inbox.
If you don't want these updates anymore, please unsubscribe here.
If you were forwarded this newsletter and you like it, you can subscribe here.
Powered by Revue
3/1, Embassy Icon Annexe, Infantry Road, Bengaluru, Karnataka 560001