Discover more from Tales of Bharat
At D91 we aim to understand the financial journeys of last-mile customers. Our research attempts to bridge the knowledge and empathy gap between various stakeholders of the digital financial services community.
Over 4,000 subscribers
Tales of Bharat - Issue #13
"A small business is an amazing way to serve and leave an impact on the world you live in." -Nicole Snow
While dealing with the pandemic, we have realized the difference between our needs and wants. One cannot survive without visiting their local Kirana store at least once a week for groceries and basic supplies which makes it an important and maybe the only touchpoint between Indian customers and the industry. Our dependency on these stores has also strengthened our belief in the fact that Kirana stores are indeed the backbone of the Indian retail industry.
Kirana chronicles is our on-field MSME research about small businesses in India where we deep dive into the mindset of these retailers.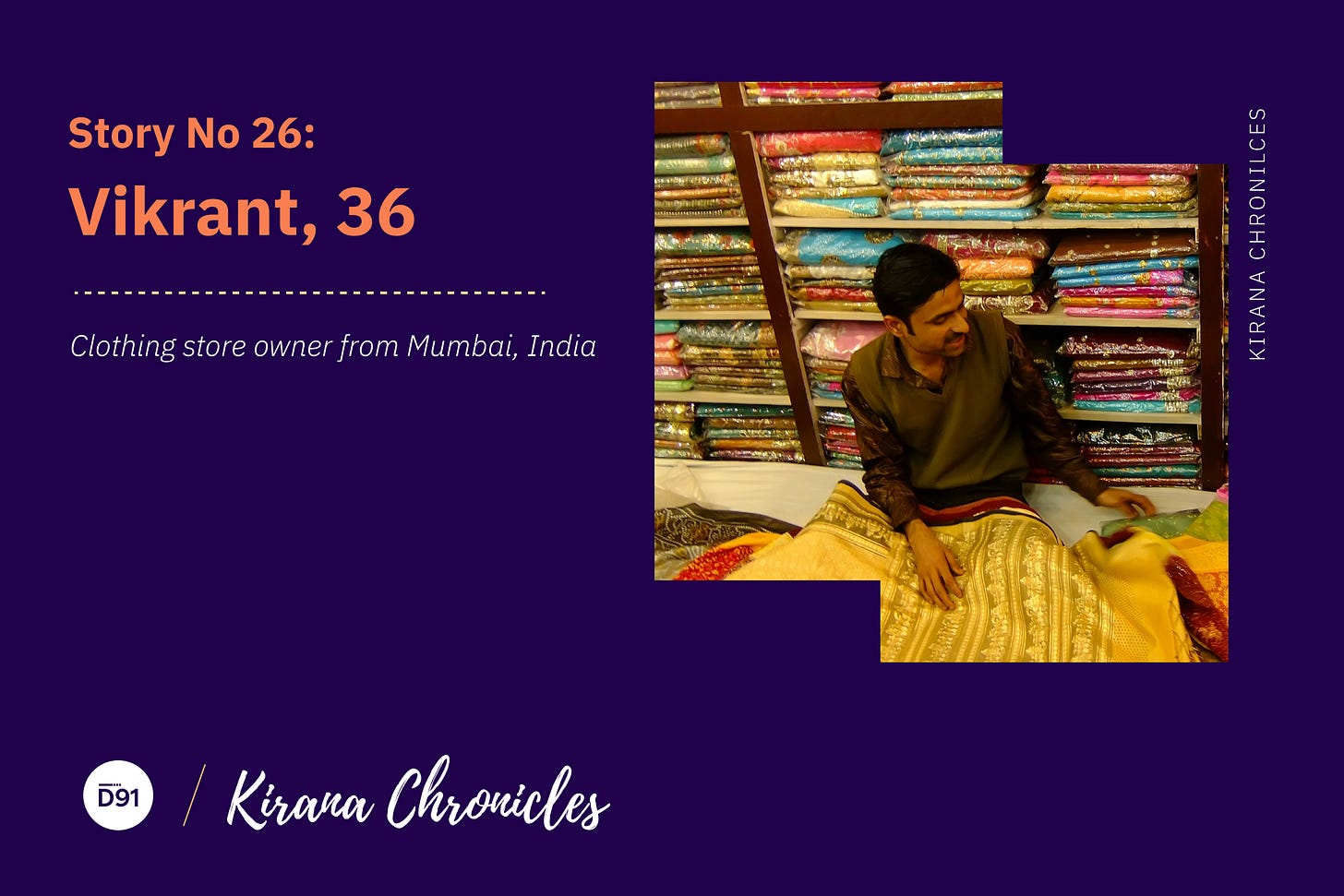 36-year-old Vikrant runs a clothing store in Mumbai. His store caters to men, women, and children of all ages and sells all kinds of clothing, from Indian to Western. He lives in a rented house with his siblings, wife, and two kids. He hopes to start a wholesale division in this business. His long term goal is to have a larger store and to own a house in the city.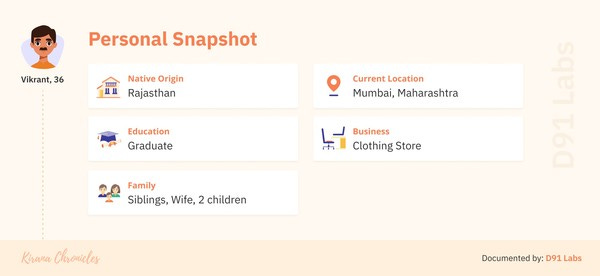 Business
The store has no tie-ups with specific brands as the purchases are driven by the changing trends and the demand for certain clothing in the market.

Vikrant hasn't tried finding business online but wants to sell his products on e-commerce platforms in the future.

He feels that enlisting his business online is a waste of money because his target market is in and around the area where his shop is located.
A: How did you get the idea to start the business?
V: As a marwari, business was always on the cards. It is the way of life for my kind of people. We don't necessarily look at what business we start, as long as we are doing a business. But, like I mentioned, I was already working in the same domain. So, starting a business in the same line was something that was inevitable.
A: Who are your major customers?
V: I mainly cater to the people and the families living in this chawl. For now, they are my only target customers and I plan to capture more market share within this space.
A: Do you take any business advice in times of need?
V: No, there is no such guiding light in my life. I do everything on my own when it comes to the business, and I learn from my mistakes.
A: Are you a part of any trader's association? How does it help with your business?
V: Yes, I am a part of the Poisar Welfare Association. See, these associations don't generally help with the betterment of the business in any way. These associations just come to your rescue for any kind of support you need for the smooth running of your business. For example, it helps me claim bad debts or advocate the fair running of my business.
Finance & Banking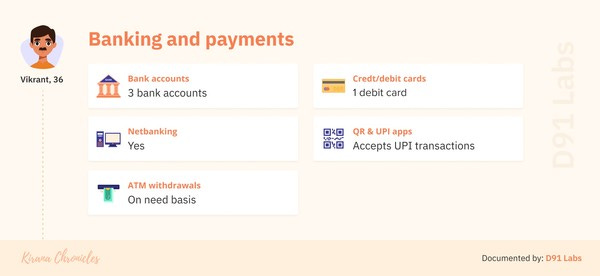 The store accepts payments through digital modes because the customers prefer using these modes of payment.

He visits the bank regularly and has never faced any difficulties with banks for their procedures.
A: How much do you receive through cash/cards?
V: Around 30% of all my inward transactions are through credit/debit cards and the rest through the mode of cash.
A: Do you accept QR codes/UPI to accept payment in your store? What was the motivation behind it?
V: Yes, we do accept payments through these digital modes. The only motivation I had for setting this up was the need shown by the customer. I did not really know much about it till customers actually came around asking for this service. That's when I realised people don't want to carry cash anymore and instead make payments through these modes. This was about 2 years ago.
A: How far is the nearest branch of your bank? How frequently do you visit the bank? Do you face any difficulties?
V: There is an Axis bank about 800 meters from here. I visit the bank quite often, actually. Almost 5 days in a week. And if for some reason I can't visit the bank, I send one of my boys to do the needful. Honestly, I have never faced any difficulties with banks or their procedures.
Read more about Vikrant's payments flow and business goals on our medium publication
#26 | Vikrant — Kirana Chronicles - D91 Labs - Medium
36-year-old Vikrant runs a clothing store in Mumbai. His store caters to men, women, and children of all ages and sells all kinds of clothing, from Indian to Western. He lives in a rented house with…
Running short on time?
Here is a Instagram version for you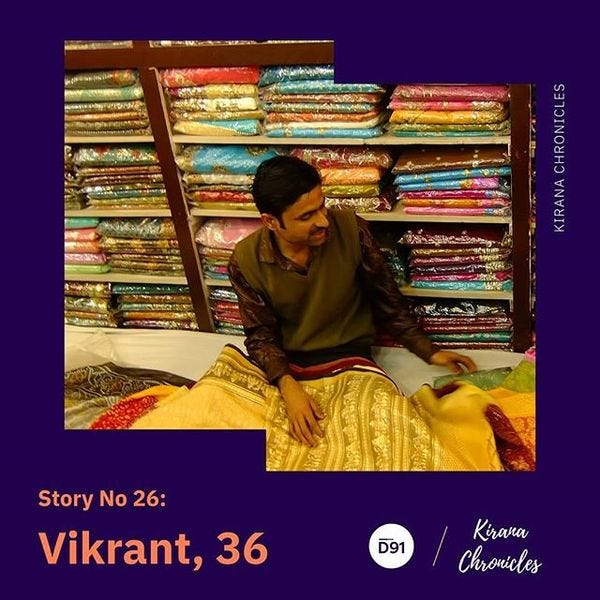 More stories from our Kirana Chronicles series:
#25 | Hasmukh — Kirana Chronicles - D91 Labs - Medium
Hasmukh (43), a native resident of Gujarat runs a stationery store in Mumbai for the past 10 years. He lives with his wife and two kids in a house they have rented. Despite the slowing business, he…
#24 | Keshav — Kirana Chronicles - D91 Labs - Medium
37-year-old Keshav, a native resident of Mumbai, lives with his wife and two children in a house they own. He currently runs a business that provides flooring solutions like rugs and mats for…
Got an idea/theme for our research, please tweet to us @d91labs and we would love to have a chat with you :)
About D91 Labs:
D91 labs is an open-source initiative by setu.co to help Bharat build great fintech products. We organize and publish user research, insights, and frameworks for fintech in India. Please follow us on medium for more exciting stories and insights on Bharat.
Follow our updates on
Medium | Twitter | Facebook | Instagram