Discover more from Tales of Bharat
A publication from D91 Labs dedicated to fostering financial innovations by conducting high-quality research and developing fintech ideas for Bharat.
Over 4,000 subscribers
Tales of Bharat - Issue #12
If you are from India and are familiar with fintech, you wouldn't miss the term 'neobank'. For the starters, A neobank is a digital first bank that operates exclusively online without traditional physical branch networks.
India is expected to see a surge in the launch of the neobanking startups in coming years. Reinventing banking demands a deeper understanding of how people manage money in their daily lives. At D91 Labs, we deep dive into understanding the behavioural aspects of how people handle money through our series called 'Millennial Banking. Today we talk about one such story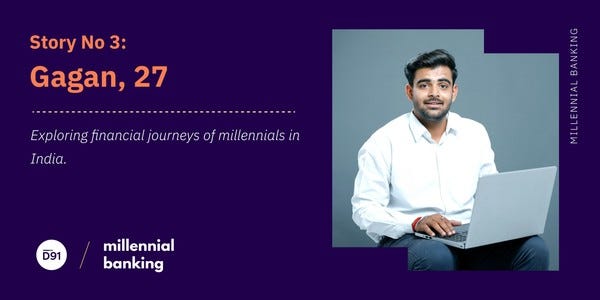 Gagan is an ambitious 27-year-old who grew up in Jhansi and is currently residing and working in Bengaluru for an IT firm. Having completed his schooling from a Hindi medium and graduation and post-graduation from national government institutes outside his hometown, his future aspirations include going abroad — to work or to study. He purchased his first car within his first two years as a working professional and has started his investment journey proactively leveraging online tools and applications supplemented by advice from his friends and colleagues. This story is an attempt to capture his personal financial journey in relation to technology.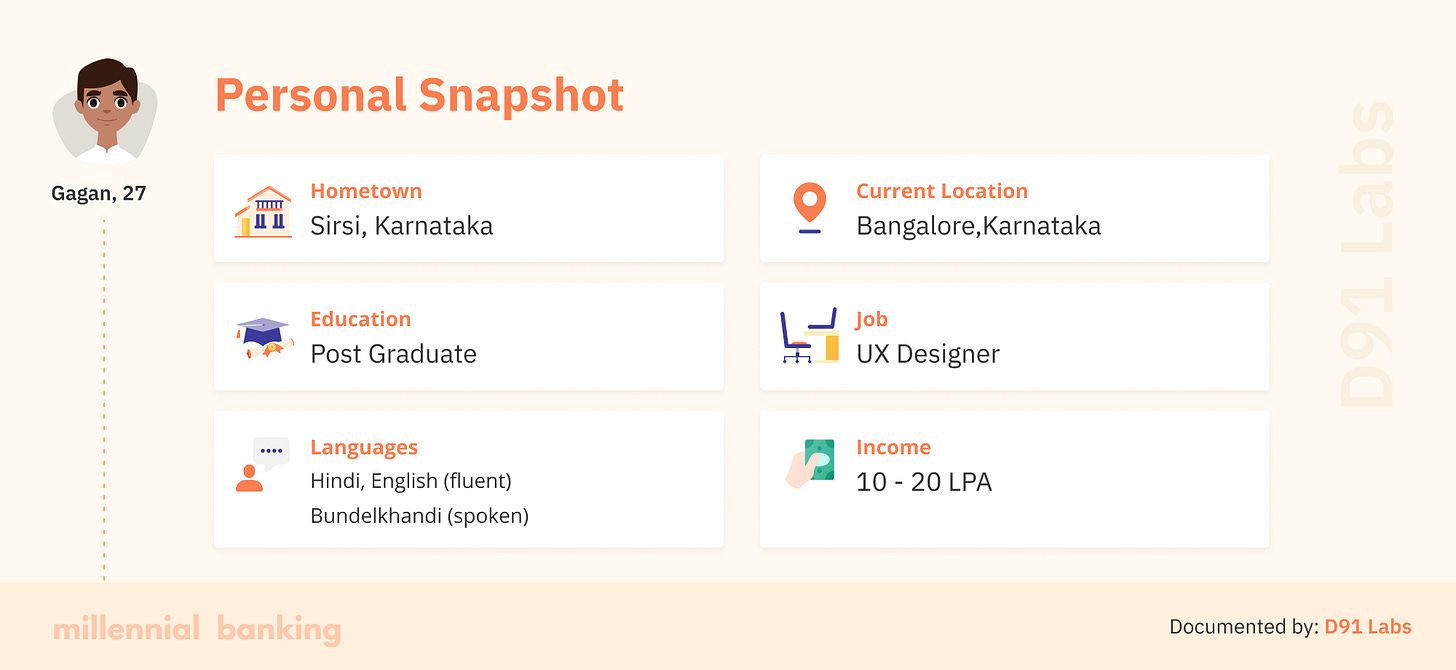 Expenses
Gagan's income enables him to afford a comfortable, independent urban lifestyle. In addition to his car, he has also purchased his own laptop, DSLR camera, fridge and smartphone. He also invests in his personal relationships — eating out and travelling with friends as well as periodically visiting his hometown. He admits that he has some trouble keeping a tab on his additional expenses.
From the transcript
S: What is your monthly expenditure?
G: I'm left with around 50% of my salary after expenses. My major monthly expenses are Rent, fuel and the EMI for my car loan. I also eat out frequently — as a matter of fact I have been eating out for the last couple of days.
S: What happens to the other 50% of your monthly income?
G: I invest 20–30% of this. The rest stays in my account but there are additional expenses — I go home every 2–3 months, so that is also a major expense. The thing with me is that money tends to get spent somewhere or the other.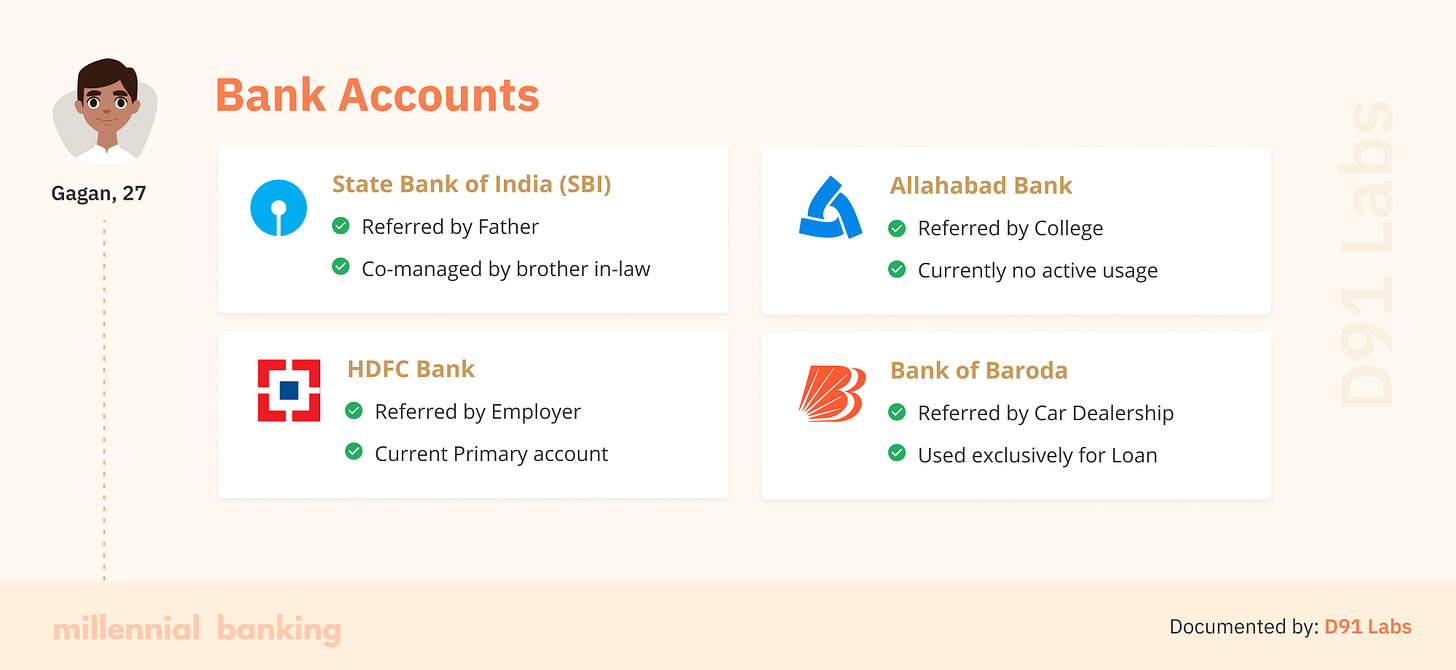 Banking
Gagan's father opened his first bank account with the State Bank of India (SBI). This account currently serves as his secondary account and his brother in law, who works at SBI helps him to manage it —
S: When did you open your first bank account?
G: My dad had opened an SBI account for me when I turned 18. He trusts that bank — for instance, the only payment app he uses is SBI BHIM — he doesn't trust Google Pay and PhonePe.
S: How do you manage this account now?
G: I keep transferring my savings to that account and manage my investments from there. My brother in law works there (SBI) so wherever he goes, I transfer the account to that branch.
S: How does your brother in law help you manage your account?
G: When I broke my ATM card, I went to him and he told me the process — write an application, submit it. Basically I went to the branch, took a signature and he forwarded my application. So I had to go just once.
Gagan opened his second account with Allahabad Bank, which was recommended by his undergraduate institute to its students. He no longer uses this account actively because it is inconvenient for him to do so —
S: When did you open your second bank account?
G: With Allahabad Bank during my UG (under graduation). My father sent my college fees to this account, there was no need to write a draft and I could directly transfer the money from my account to the college account.
S: How do you manage this account now?
G: I have no idea what is going on there now. There was one difficulty — every 6 months they used to ask for a new internet banking password. Earlier I used to change it, but now I have stopped using that account altogether. I have a cousin who worked in another branch of the bank so after college I transferred that account there, but after that nothing really.
He opened his third account with HDFC Bank and this is currently his primary account —
S: When did you open your third bank account?
G: My office opened an HDFC account for me when I started working. It is still my salary account (after transferring jobs).
S: How do you manage this account now?
G: I have never visited my branch. I'm not sure exactly where the branch is either. I talk to my relationship manager there often (by phone), she handles everything for me.
He has an additional account with Bank of Baroda, which he opened to secure his car loan —
S: Do you have any other bank accounts?
G: I have a loan account with the Bank of Baroda. When I took a loan to buy my car, I took it from a National Bank so I could pre-close it, if you take it from a Private Bank it requires additional charge to pre-close, in the case of a government bank there is no additional charge. They made me open a savings account when I took the loan. The loan account is linked to the bank account.
S: How do you manage this account?
G: That account is like a Wallet for me, I transfer a fixed amount in it every month. It is automatically deducted — I check on it occasionally to make sure things are happening smoothly.
Gagan manages and interacts with his 3 active accounts through a variety of interfaces .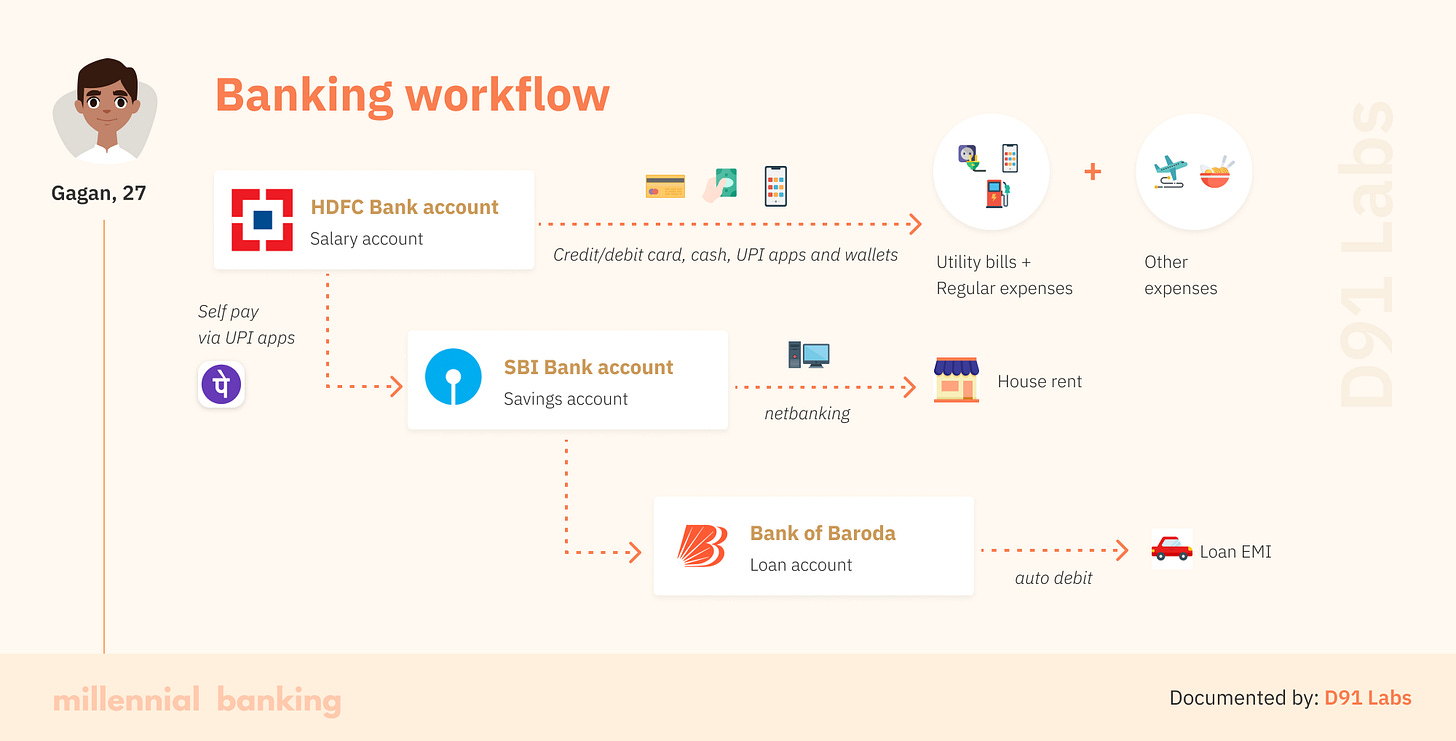 Read more about Gagan's payments and investment flow on our medium publication
#3 | Gagan: Millennials - D91 Labs - Medium
Gagan is an ambitious 27-year-old who grew up in Jhansi and is currently residing and working in Bengaluru for an IT firm. Having completed his schooling from a Hindi medium and graduation and…
Running short on time?
Here is a Instagram version for you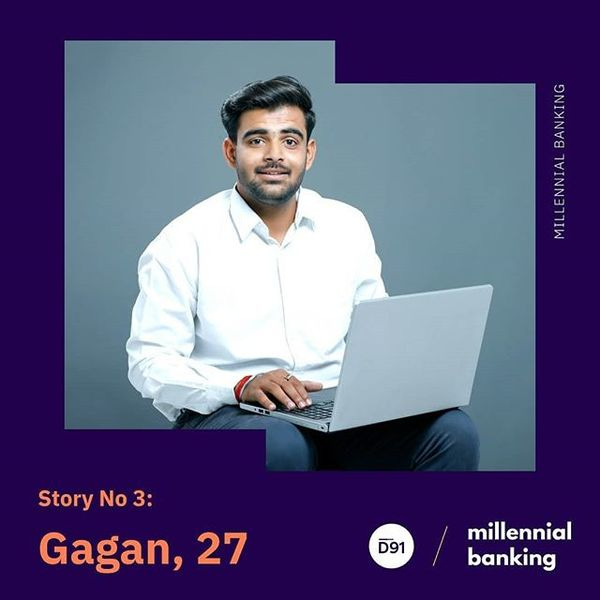 More stories from our millennial banking series:
Arun, a 26-year-old is the single child who lives with parents in the heartland of Bengaluru. Arun has lived in this city all through his life and is a true Bengalurian by heart. He currently works…
#2 | Ratna: Millennial Banking
Ratna is a 28-year-old woman who grew up in Pune and is currently residing and working in Bengaluru for an IT firm. Although she is originally from Karnataka, she has spent a larger part of her life…
Got an idea/theme for our research, please tweet to us @d91labs and we would love to have a chat with you :)
About D91 Labs:
D91 labs is an open-source initiative by setu.co to help Bharat build great fintech products. We organise and publish user research, insights, and frameworks for fintech in India. Please follow us on medium for more exciting stories and insights on Bharat.
Follow our updates on
Medium | Twitter | Facebook | Instagram

By D91Labs
'Tales of Bharat' is a bimonthly newsletter from D91 Labs that curates and delivers our on-field research stories straight into your inbox.
If you don't want these updates anymore, please unsubscribe here.
If you were forwarded this newsletter and you like it, you can subscribe here.
Powered by Revue
3/1, Embassy Icon Annexe, Infantry Road, Bengaluru, Karnataka 560001