D91 Events: Personal finance 101
I recently asked a friend, "When was the last time you spoke about your financial doubts?" and she replied "Never."
Managing one's own finance could be a overwhelming thing to do for starters. Our culture allows very few spaces to talk about financial well-being without being judged. Through D91 Labs, we have been experimenting with idea of creating trusted spaces where people can open up about their doubts around personal finance.
We had organised our first informal event in July and as its extension, we are hosting our second event that aims at bringing together women to talk, share and discuss about personal finance.
PS: This event is only for women.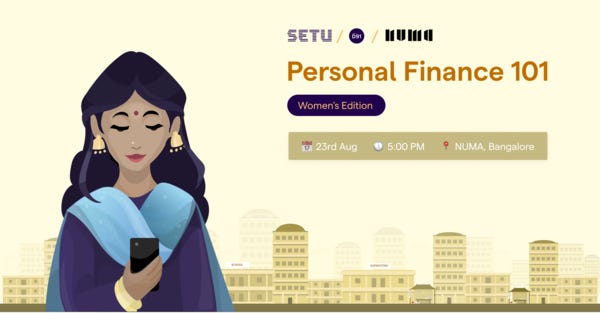 Personal Finance 101 - Women's Edition
Date: 23rd August, Friday
Location: NUMA, Bangalore
Time: 5-7 PM
Speaker: Shwetha Barathwaj, Co-foudner of HerAlpha, SEBI registered financial advisor.
RSVP to attend the event. Free registrations.
Also, please forward this to people who might be interested in attending this :D We also look forward to hosting events with various themes around personal finance in future.
Follow us on social media for updates
By D91Labs
'Tales of Bharat' is a bimonthly newsletter from D91 Labs that curates and delivers our on-field research stories straight into your inbox.
If you don't want these updates anymore, please unsubscribe here.
If you were forwarded this newsletter and you like it, you can subscribe here.
Powered by Revue
3/1, Embassy Icon Annexe, Infantry Road, Bengaluru, Karnataka 560001