D91 Event - Designing for data w/ Facebook
Hello 👋 ,
Have you ever wondered as to how every action that we perform generates a wave of data? We are all data-generating machines. In the digital economy, we tend to trade our data in return to avail services.
But the tools we have relied on to inform people about their data and choices have not kept pace with technology. They are neither intuitive nor user-friendly.
This brings in a new set of challenges and opportunities to build data-aware application for the modern world. How about we talk about it?
Designing for Data
We invite you for an evening of talks and discussion around 'Designing for Data' with Dr. Dan Hayden, Data Strategist, Facebook
Date - 18th September
Time - 6:00 - 8:00 PM
Venue - CoWrks, Residency Road
'Designing for Data' by Dr. Dan Hayden,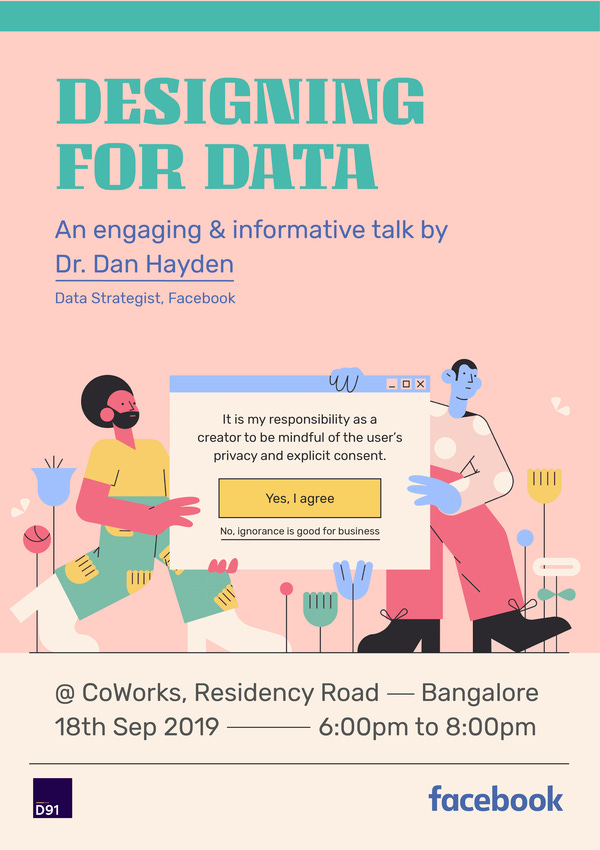 By D91Labs
'Tales of Bharat' is a bimonthly newsletter from D91 Labs that curates and delivers our on-field research stories straight into your inbox.
If you don't want these updates anymore, please unsubscribe here.
If you were forwarded this newsletter and you like it, you can subscribe here.
Powered by Revue
3/1, Embassy Icon Annexe, Infantry Road, Bengaluru, Karnataka 560001